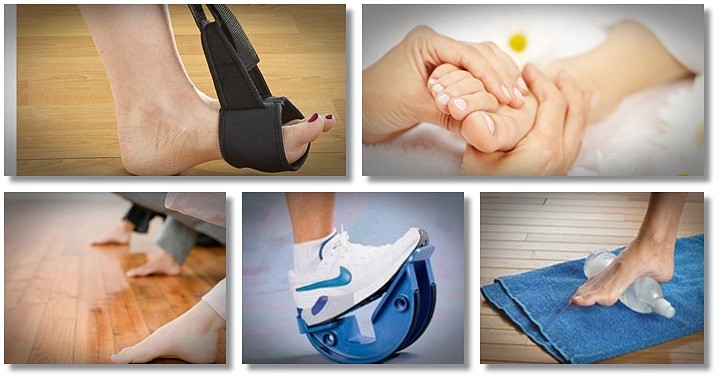 Overview
Plantar fasciitis is sometimes mixed up with a heel spur although they are not the same. A heel spur is a calcium deposit that occurs where the plantar fascia is attached to the heel bone (calcaneus). In many cases a heel spur is found on a foot with no pain or other symptoms at all. And in many painful heels there is no sign for a heel spur. Heel spur and painful heal does not necessarily go together. For many years plantar fasciitis was believed to be an inflammatory condition. It is thought now to be inaccurate because there were many cases of the disorder with no inflammatory signs observed within the fascia. The heel pain cause is now believed to be damage to the collagen fibers of the fascia. This damage, caused by stress injury, sometimes may include inflammatory cells.
Causes
Identified risk factors for plantar fasciitis include excessive running, standing on hard surfaces for prolonged periods of time, high arches of the feet, the presence of a leg length inequality, and flat feet. The tendency of flat feet to excessively roll inward during walking or running makes them more susceptible to plantar fasciitis. Obesity is seen in 70% of individuals who present with plantar fasciitis and is an independent risk factor. Studies have suggested a strong association exists between an increased body mass index and the development of plantar fasciitis. Achilles tendon tightness and inappropriate footwear have also been identified as significant risk factors.
Symptoms
A very common complaint of plantar fasciitis is pain in the bottom of the heel. Plantar fasciitis is usually worse in the morning and may improve throughout the day. By the end of the day the pain may be replaced by a dull aching that improves with rest. Most people suffering from plantar fasciitis also complain of increased heel pain after walking for a long period of time.
Diagnosis
Diagnosis of plantar fasciitis is based on a medical history, the nature of symptoms, and the presence of localised tenderness in the heel. X-rays may be recommended to rule out other causes for the symptoms, such as bone fracture and to check for evidence of heel spurs. Blood tests may also be recommended.
Non Surgical Treatment
Most doctors recommend an initial six- to eight-week program of conservative treatment, including Rest, balanced with stretching exercises to lengthen the heel cord and plantar fascia. Ice massage to the bottom of the foot after activities that trigger heel pain. Avoidance of walking barefoot or wearing slippers or sandals that provide little arch support. A temporary switch to swimming and/or bicycling instead of sports that involve running and jumping. Shoes with soft heels and insoles. Taping the bottom of the injured foot. Nonsteroidal anti-inflammatory drugs (NSAIDs), such as ibuprofen (Advil, Motrin and other brand names), or acetaminophen (Tylenol) for pain. Physical therapy using ultrasound, electrical stimulation with corticosteroids or massage techniques. If this conservative treatment does not help, your doctor may recommend that you wear a night splint for six to eight weeks. While you sleep, the night splint will keep your foot in a neutral or slightly flexed (bent) position to help maintain the normal stretch of the plantar fascia and heel cord. If the night splint doesn't work, your doctor may inject corticosteroid medication into the painful area or place your foot in a short leg cast for one to three months. Shock wave therapy, in which focused sound energy is applied to the sore heel, may be recommended for plantar fasciitis. The shock waves are intended to irritate or injure the plantar fascia to promote healing. The overall benefit of this approach is uncertain. Other therapies that have been tried include radiation therapy and botulinum toxin injections. But their effectiveness is unclear. If all else fails, your doctor may suggest surgery. But this is rare, and surgery is not always successful.
Surgical Treatment
If treatment hasn't worked and you still have painful symptoms after a year, your GP may refer you to either an orthopaedic surgeon, a surgeon who specialises in surgery that involves bones, muscles and joints, a podiatric surgeon, a podiatrist who specialises in foot surgery. Surgery is sometimes recommended for professional athletes and other sportspeople whose heel pain is adversely affecting their career. Plantar release surgery. Plantar release surgery is the most widely used type of surgery for heel pain. The surgeon will cut the fascia to release it from your heel bone and reduce the tension in your plantar fascia. This should reduce any inflammation and relieve your painful symptoms. Surgery can be performed either as, open surgery, where the section of the plantar fascia is released by making a cut into your heel, endoscopic or minimal incision surgery - where a smaller incision is made and special instruments are inserted through the incision to gain access to the plantar fascia. Endoscopic or minimal incision surgery has a quicker recovery time, so you will be able to walk normally much sooner (almost immediately), compared with two to three weeks for open surgery. A disadvantage of endoscopic surgery is that it requires both a specially trained surgical team and specialised equipment, so you may have to wait longer for treatment than if you were to choose open surgery. Endoscopic surgery also carries a higher risk of damaging nearby nerves, which could result in symptoms such as numbness, tingling or some loss of movement in your foot. As with all surgery, plantar release carries the risk of causing complications such as infection, nerve damage and a worsening of your symptoms after surgery (although this is rare). You should discuss the advantages and disadvantages of both techniques with your surgical team. Extracorporeal shockwave therapy (EST) is a fairly new type of non-invasive treatment. Non-invasive means it does not involve making cuts into your body. EST involves using a device to deliver high-energy soundwaves into your heel. The soundwaves can sometimes cause pain, so a local anaesthetic may be used to numb your heel. It is claimed that EST works in two ways. It is thought to, have a "numbing" effect on the nerves that transmit pain signals to your brain, help stimulate and speed up the healing process. However, these claims have not yet been definitively proven. The National Institute for Health and Care Excellence (NICE) has issued guidance about the use of EST for treating plantar fasciitis. NICE states there are no concerns over the safety of EST, but there are uncertainties about how effective the procedure is for treating heel pain. Some studies have reported that EST is more effective than surgery and other non-surgical treatments, while other studies found the procedure to be no better than a placebo (sham treatment).
Stretching Exercises
Exercises designed to stretch both your calf muscles and your plantar fascia (the band of tissue that runs under the sole of your foot) should help relieve pain and improve flexibility in the affected foot. A number of stretching exercises are described below. It's usually recommended that you do the exercises on both legs, even if only one of your heels is affected by pain. This will improve your balance and stability, and help relieve heel pain. Towel stretches. Keep a long towel beside your bed. Before you get out of bed in the morning, loop the towel around your foot and use it to pull your toes towards your body, while keeping your knee straight. Repeat three times on each foot. Wall stretches. Place both hands on a wall at shoulder height, with one of your feet in front of the other. The front foot should be about 30cm (12 inches) away from the wall. With your front knee bent and your back leg straight, lean towards the wall until you feel a tightening in the calf muscles of your back leg. Then relax. Repeat this exercise 10 times before switching legs and repeating the cycle. You should practise wall stretches twice a day. Stair stretches. Stand on a step of your stairs facing upstairs, using your banister for support. Your feet should be slightly apart, with your heels hanging off the back of the step. Lower your heels until you feel a tightening in your calves. Hold this position for about 40 seconds, before raising your heels back to the starting position. Repeat this procedure six times, at least twice a day. Chair stretches. Sit on a chair, with your knees bent at right angles. Turn your feet sideways so your heels are touching and your toes are pointing in opposite directions. Lift the toes of the affected foot upwards, while keeping the heel firmly on the floor. You should feel your calf muscles and Achilles tendon (the band of tissue that connects your heel bone to your calf muscle) tighten. Hold this position for several seconds and then relax. Repeat this procedure 10 times, five to six times a day. Dynamic stretches. While seated, roll the arch of your foot (the curved bottom part of the foot between your toes and heel) over a round object, such as a rolling pin, tennis ball or drinks can. Some people find that using a chilled can from their fridge has the added benefit of helping to relieve pain. Move your foot and ankle in all directions over the object for several minutes. Repeat the exercise twice a day.